Attempted Murder Arrest
Date Posted: 07/17/2023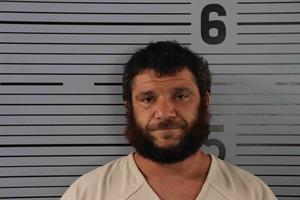 On July 16,2023 the Jackson County Sheriff's Office and Stevenson Police Department responded to a report of a male with a gunshot wound to the head on County Road 104 in Stevenson. It was determined that the victim was shot in the head during a domestic argument and the offender had fled into the wooded area near the residence. The victim was treated by Highland Ambulance Service and Stevenson Fire on the scene and transported to Erlanger Hospital.
Limestone Correctional Tracking Dog Unit was requested and responded to the scene. The offender was taken into custody after a short search with the tracking dogs.
Travis Wade Hambrick age 38 of Stevenson Alabama was arrested and charged with Attempted Murder.
The Sheriff's Office was assisted by the Stevenson Police and Fire Department, Highlands Ambulance Service, Limestone Correctional Tracking Dog Unit, ALEA Aviation Unit, and ALEA Highway Patrol Units.