Jackson County Sheriff's Robbery Arrest of Jimmy PEEK
Date Posted: 01/25/2023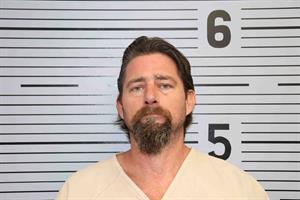 On Tuesday January 24th, 2023 at about noon, Jackson County Sheriff's Office Deputies and Investigators responded to a Robbery call on County Road 778, Pisgah, AL. Upon arrival Deputies learned that that the suspect (Jimmy PEEK, Jr. age 49 of Pisgah, AL.) allegedly went to a neighbors residence and forced his way into the home. PEEK then assaulted the victim, a 65 year old male, and dragged him outside the residence. Additionally PEEK took several personal items from the victim, including his wallet and a Fire Department portable radio. During this assault PEEK was in possession of a firearm which he allegedly fire at or near the victim.
PEEK (Photo Above) was arrested and charged with Robbery 1st Degree and transported to the Jackson County Jail without incident. PEEK remains in the Jackson County Jail and Bond was set at $100,000.
The victim was treated for his (non-life threatening) injuries, at the scene, and was not transported the hospital.