Murder Investigation
Date Posted: 01/10/2023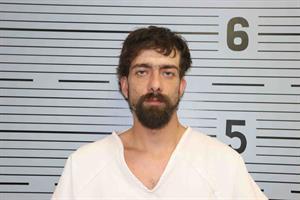 On Monday January 9, 2023 at approximately 6:37 PM, the Jackson County 911 Center received a call regarding a shooting on County Road 147 in Stevenson, Alabama. Members of the Jackson County Sheriff's Office, Stevenson Police Department and Hollywood Police Department responded to the scene on County Road 147. Upon arrival Officers/Deputies located the victim, Jack Edward THOMPSON (age 54 of Stevenson, AL.) lying on the front porch and deceased from an apparent gunshot wound. Information was developed that the victims son, Jacob Tyler THOMPSON (age 26 also of Stevenson, AL.) shot the victim and fled the scene. The area around the scene was secured and the scene was processed for evidence of the shooting.
The suspect, Jacob Tyler THOMPSON (Pictured Above), is described as a white male, 6'02" tall, approximately 140 lbs., with Brown hair and Hazel eyes. Suspect was last seen wearing a camouflage shirt with a skull emblem .
The suspect is considered ARMED and DANGEROUS and is possibly still in possession of a weapon (weapon description intentionally withheld) and has connections to Stevenson, AL, Bridgeport, AL. and Jasper, TN.
If anyone has information as to the whereabouts of Jacob Tyler THOMPSON, they should contact the Jackson County Sheriff's Office at 256-574-2610 or their local Law Enforcement Agency. The public should not attempt to engage the suspect.